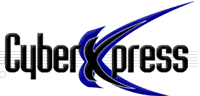 Web Design and Ecommerce
If you would like more information on what we can create for you, please don't hesitate to contact us!

You can email us at design@cyberxpress.co.nz or you can phone us on 03 364 5888. Contact Form

Below you'll find a list of what we can provide you and some of the sites which we have already created as well as our contact details.


What We Can Provide For You:

»
Professional design and layout.
»
Quality web-optimised graphics.
»
Expert site programming.
»
Database integration.
»
Web-based site update facility.
»
Affordable maintenance solutions.
»
Shopping carts for any product line with online catalogue administration.
»
A sophisticated range of web modules to support rapid and effective development of secure online shopping for your site.
»
High-end SQL database service for catalogues and online transactions.
»
Online credit card authorisation.
»
Mailing Lists.
Check out these sites for examples of our quality services:

»
www.nzine.co.nz
»
www.plain.co.nz
»
www.tba.co.nz
»
www.evanta.co.nz
»
www.canterbury.net.nz
»
www.nanny.org.nz
»
www.disarmsecure.org